So blogger has not been coorperating lately. I have tried to post pics over the last few days and for some reason they won't post. Hopefully, this time it will work.

This first pic is of my SP10 package. My pal is wonderful and sent me 8 skeins of Knit-picks shine sport in turquoise. She also sent me some knitting needles, notepads, and candy. This is the shawl that I made with the yarn. It was perfect. Thanks a million. The pattern is from www.lullabiesandlace.com. It's Anna's Candy Lace Shawl. Wonderful pattern. Go check out her site.



This next pic is from my Secret Pal at the 'Ville. She is awesome!! I just love everything she sent. The only thing missing is the candy that she sent. That had to be put up right away to keep the kids and dogs out of it. The tote is perfect for my afghan WIPs.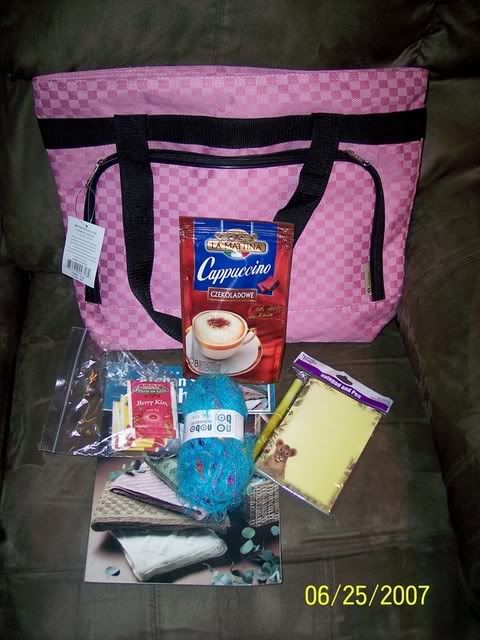 This last pic is from my Hogwarts Sock Kit Swap pal. Becky is the best. I love the color combination she picked. Absolutely fabulous yarn and my favorite. Lorna Laces!! I just love this yarn.



I have more pics to come later this week.

Enjoy and have a blessed day!!