I know. I'm a bad blogger but with all the swaps ending at the same time I have been keeping a couple of things under wraps. Well, all the packages have been received and I can now show pictures.

This is my finished Candy lace shawl (pattern available at Anna's). I love the color. I can definately see myself making another one of these. Very easy pattern and quick too.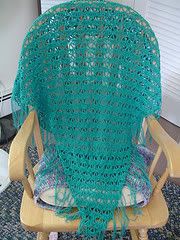 This next shawl is a seraphina made with Joann's Boucle Sensation. Another quick and easy pattern.




I only have one more swap to finish--another shawl. LOL. I am hoping to get this one done before I have surgery on August 3rd. I am having carpal tunnel and deQuervains release. I so need this surgery. I am hoping that after the surgery I will be able to crochet again without pain.

I am taking a break from the swaps for awhile also. I am planning on participating in the Autumn Secret Pal swap at the 'Ville but that should just about be it for the year. I am wanting to crochet a few things for myself.

I will try to post my WIP's next week.

Enjoy and have a blessed day!!