But first I want to show you what I got. Last week my mother was given an afghan. It was made by her mother back in the 70's (and yes, the colors reflect this era..LOL)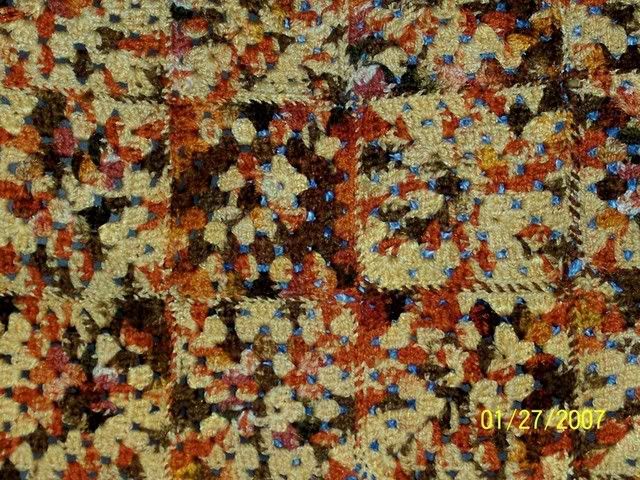 Now onto my current WIP's for this week. Sadly, last week my uncle passed away so I didn't have alot of time to crochet.
So here is this weeks updated list~~
Current CAL's
1. Drew's Monet at the 'ville---Yes I know I just finished one but have another to make in camo for my son (Thing 1). Update~~put on hold for now!!
2. Ripple along at Crochet Happy--I have 2 of the round ripples (my favorite pattern) almost finished and still need to start a baby one.
Update~~Finished one of the full sized ones and the baby round ripple.
3. I am going to make another stepping stones afghan for a CAL at crochetville.
4. Stashbusters CAL~~14 points for this week (so far)(286 YTD).

Current WIP's
1. An afghan from the Lesuire Arts Rose Cottage Afghan collection--Peaceful Interval. I have about 40 inches of the main ghan done. It calls for 50 inches but I am going to make it a tad longer and then do the 10 rounds of edging. I am using TLC Luster in Claret for this one.Update~~this one is now at 50". I am going to add another 10" and then do the edging.
2. An afghan that I bought on http://www.marymaxim.com which is named Splendor Afghan and it is made with the Bernat Satin Yarn. The color on this one is Borddeauz. This one is to match the one above with just subtle differences.
Update~~found the MIA yarn for this one
3. Testing a doily for Katchkan from Simply Crochet Forum.
Update~~on Round 27 of 35.
4. I have started The Crochet Dude's Flying Afghan. I have 6/28 squares done.
5. I have also started a 12" sampler afghan for my daughter (Thing 2).
Update~~I have 7 of 12 squares done.
6. I am testing a teapot cosy for Anna at www.lullabiesandlace.com
Update~~Finished
7. I am testing a baby ghan for Crochet Garden.
8. I have voluteered to make some preemie items for a lady at Crochetville.

Wow~~I thought by doing this I would be able to stay on top of my WIP's. I never realized that as soon as I get one done I am starting another. At least it's better than not doing anything. LOL.

Enjoy and have a blessed day!!