Let me start off by saying that Crochetville Secret Pal's ~~ Spring round started last week. My partner is awesome and has been sending me some of the cutest Strawberry Shortcake and Hello Kitty e-cards. I just love checking my email now to see if there is anything new in there. SO~~THANK YOU to my SP!!

Well I took advantage of this weekend and crocheted up a storm. Now some of my pics I can't show until their intended receivers actually receive them but I can list them.

I finished up a rather large doily that I was testing for a dear friend. (Sorry, can't show pics until she releases for publication).

A lady at one of the testing forums I am a member of requested items for one of her friends who just gave birth to a preemie. Since the baby won't be a preemie long but will be a baby for awhile I opted to make a full size baby ghan for him.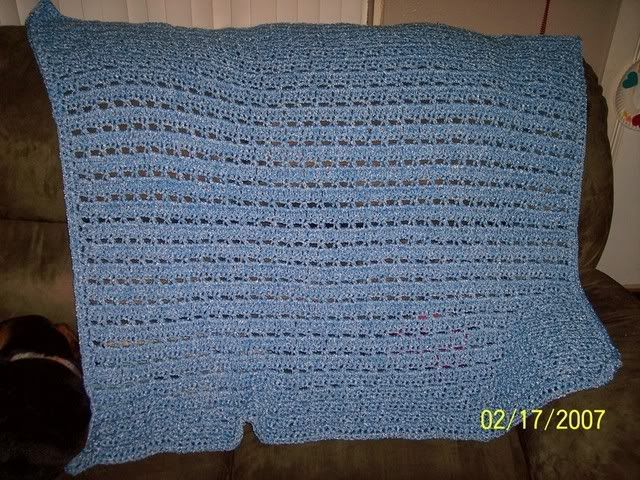 I also worked on 2 of my swaps over the weekend. Misty is my partner for the Get to know you swap and she was in the first month for the squares swap. Well, after changing my mind about 50 times on what to make for her I finally decided and will post later this week.

I also started a new afghan for me. I found that www.smileysyarns.com had the RH Tweeds for $1.50 a skein. Well, you all know how I am with yarn sales. HEY~~this was one that even hubby didn't argue with. LOL. I love you Jas. Here is a progress pic of my ghan. It is a Sampler Stitch Afghan and I love the way it is turning out.



Well~~gotta run.
Enjoy and have a blessed day!!